All New Stories Beginning in June 2018
We start ordering in March 2018 for the books we will receive in May 2018, and if we don't know you want it we might not stock it on our shelves. There are 1000's of comic book titles, and while we try to keep a wide variety to appeal to new customers, we DON'T HAVE ROOM for every single title to fit on our displays. So, if you are up to date on when new titles or new story arcs that you want to read are coming out, you can have us order it and it will be waiting for you! Pre-order or start a subscription today! 
**Secret Tip - If you wait until the month a book comes out to order it, you might not get it until 2 weeks after the release date, or a month, or never (sold out)!
New From Marvel June 2018
Due to Marvel's latest "Fresh Start" campaign, there are going to be a LOT of #1's coming up. Here is June's sampling....
TONY STARK IRON MAN #1 SHIPS 6/20/18
MARVEL COMICS
(W) Dan Slott (A) Valerio Schiti (CA) Alexander Lozano
TAKE FLIGHT WITH DAN SLOTT & VALERIO SCHITI!
From the cusp of tomorrow's dreams to the forefront of imagination, one man always soars on the cutting edge of adventure!
You know his name. Tony Stark is Iron Man.
And Iron Man...is an idea. Always changing. Always evolving. An idea without limit!
Take wing with DAN SLOTT (AMAZING SPIDER-MAN) and Valerio Schiti (GUARDIANS OF THE GALAXY) as they propel the ultimate Self-Made Hero to new heights of inventiveness!
Tony Stark is Iron Man. The future is now. Strap in!
Rated T+
DEADPOOL #1 SHIPS 6/6/18
MARVEL COMICS
(W) Skottie Young (A/CA) Nic Klein
MERCIN' FOR A LIVING!
Skottie Young and Nic Klein bring you the craziest tales of the Regeneratin' Degenerate yet! It's been a while since Deadpool's had to merc to make ends meet, but things are tough all over. While Deadpool tries to get his humble mercenary-for-hire business back off the ground, a catastrophic threat so unfathomably huge, so mind-breakingly cataclysmic it defies description, is heading toward Earth, and there's only ONE PERSON WHO CAN STOP IT!!!
Oh no, wait...it's not Wade, is it? Oh, %$@#. It's Wade.
Parental Advisory
WAKANDA FOREVER AMAZING SPIDER-MAN #1 (OF 3) SHIPS 6/27/18
MARVEL COMICS
(A) Alberto Alburquerque (CA) Terry Dodson
PART ONE OF A THREE-PART STORY THAT SEES THE DORA MILAJE TEAM UP WITH THE MARVEL U!
The blockbuster Black Panther film has everyone talking about Wakanda's best warriors, the fierce Dora Milaje! Now witness the Dora outside of Wakanda - and in Spider-Man's world! When the Dora catch wind of a Wakandan threat causing trouble in New York, they'll leap into action - with or without their king. Don't miss Okoye, Ayo and Aneka on a globe-trotting mission to protect the realm at any cost. WAKANDA FOREVER starts here!
Rated T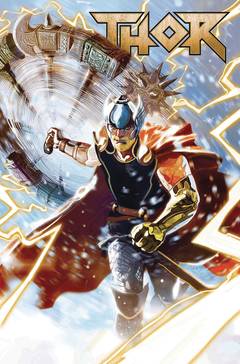 THOR #1 SHIPS 6/13/18
MARVEL COMICS
(W) Jason Aaron (A/CA) Michael Del Mundo
JASON AARON & MIKE DEL MUNDO TAKE THE PRINCE OF ASGARD IN A WHOLE NEW DIRECTION!
Thor Odinson has regained his mantle - and with it, a wild new world of trouble on his mighty hands! The artifacts of Asgard have been scattered across the earth, and to reclaim them, Thor will have to face some ugly truths. Like the production cost of hundreds of new hammers! And the Thunder God is going to need every last one of them if he's going to stop the unstoppable Juggernaut. Jason Aaron takes the Prince of Asgard in a whole new direction with YOUNG GUN artist Mike Del Mundo joining him at the helm! And don't miss the latest chapter of the King Thor saga with acclaimed BLACK BOLT artist Christian Ward, as the Thor of the far future encounters an old friend who's undergone some startling changes.
Rated T+
IMMORTAL HULK #1 SHIPS  6/6/18
MARVEL COMICS
(W) Al Ewing (A) Joe Bennett (CA) Alex Ross
HORROR HAS A NAME. 
You'd never notice the man. He doesn't like to be noticed. He's quiet. Calm. Never complains. If someone were to walk up and shoot him in the head... all he'd do is die.
Until night falls. And someone else gets up again.
The man's name is Banner.
The horror is THE IMMORTAL HULK.
Rated T+
ANT-MAN AND THE WASP #1 (OF 5) SHIPS  6/6/18
MARVEL COMICS
A NEW SERIES FROM MARK WAID & JAVIER GARRON!
Wasp was just trying to help Ant-Man get home to Earth to see his daughter...but a little problem got in the way.  Very little. Subatomic, in fact, as Scott Lang was lost in the vast spaces between atoms! Now, Nadia is his only hope of rescue...if only he would listen long enough for her to save them! From master storyteller Mark Waid (CAPTAIN AMERICA, CHAMPIONS) and Marvel Young Gun artist Javier Garrón (SECRET WARRIORS, STAR-LORD) comes a story of a big journey getting smaller all the time!
Rated T+
MARVEL COMICS
(W) Matthew Rosenberg (A) Andy MacDonald (CA) Marcos Martin
MATTHEW ROSENBERG & ANDY MACDONALD BRING MULTIPLE MAN BACK FROM THE DEAD...SORT OF...MAYBE?
A handful of people's favorite X-Man - Jamie Madrox - was alive for a while. Then he was dead. Now he's not. But he will be again if he doesn't kill himself trying to make sure he doesn't die. It makes sense when you read it. Trust us. In his fight to not die, Jamie has stumbled across a threat even greater than his own death, but fixing it might make it worse. Can he save the world from himself?
On top of all that, the X-Men are mad at him now, and a mysterious new group of foes is after him, too. We can't tell you who they are, but they're pretty great.
Rated T+
DEADPOOL ASSASSIN #1 (OF 6) SHIPS 6/13/18
MARVEL COMICS
(W) Cullen Bunn (A/CA) Mark Bagley
The Regeneratin' Degenerate and his old pal Weasel are back, and they're imposing their special brand of justice on any other killers for hire who don't live up to their moral code - starting with a dangerous operation that'll take Deadpool into the heart of a castle filled with ninja...WHO WILL STAB DEADPOOL MULTIPLE TIMES IN THIS ISSUE! Ouch! And that says nothing of the emotional damage the Merc with the Mouth is constantly grappling with... Leave the kiddos at home, True Believers, 'cause "Killer" Cullen Bunn and "Never Misses His" Mark Bagley are bringing you mercenary action as you like it - bombastic, badass, and, of course, bloody!
Parental Advisory
DOCTOR STRANGE #1 SHIPS 6/6/18
MARVEL COMICS
(W) Mark Waid (A/CA) Jesus Saiz
NEW SPELLS, ALLIES & ENEMIES IN THIS NEW SERIES FROM MARK WAID & JESUS SAIZ!
SORCERER SUPREME...OF THE  GALAXY!
The Eye of Agamotto is closed! Doctor Stephen Strange has lost his connection to the Earth's arcane power, and he can't wait to recover while nightmares press against the seams of our reality. Tony Stark offers a 21st-century solution: When astral travel fails, try astronautical travel. Enter Doctor Strange: Space-Explorer Supreme! New spells, allies and enemies - new and old - await Strange beyond the stars, along with corners and secrets of the Marvel Universe seen here for the first time! Space is endless, but time is short. After years of threats, Stephen's bill for magic use is coming due - who will come to collect?!
Rated T+
MARVEL COMICS
(W) Jeff Lemire (A) Aaron Kim Jacinto (CA) Bryan Hitch
THE GOLDEN GUARDIAN IS BACK! FRESH FROM THE PAGES OF DOCTOR STRANGE...
...but is that really such a good thing?
The greatest hero that the Marvel Universe ever forgot has returned! The Sentry - shining sentinel with the power of a thousand exploding suns - is back from the dead, but his troubled mind is far from finding peace. By day, he trudges through a mundane life as Bob Reynolds; at night, the Sentry soars across a gleaming, perfect skyline. But how much of the Sentry's dual existence is real? And what of his dark other self, the Void?
Jeff Lemire (MOON KNIGHT, Black Hammer) returns to Marvel and unites with Kim Jacinto (AVENGERS: NO SURRENDER) for this mind-bending series that will shake the Sentry, and the Marvel Universe, to its foundations. 
Rated T+
MARVEL RISING ALPHA #1 SHIPS 6/13/18
MARVEL COMICS
This summer, SQUIRREL GIRL meets MS. MARVEL - for the very first time! When Doreen Green (also known as the Unbeatable Squirrel Girl) volunteers as head counselor for an extracurricular computer programming class, little does she know that junior counselor Kamala Khan moonlights as crimefighting super hero Ms. Marvel! But this coding configuration is more than just ones and zeros when a mysterious new super villain shows her face! Will our heroes be able to save the day without blowing their secret identities? Join Ms. Marvel and Squirrel Girl (with some special guest appearances) as they learn what it truly takes to become the next generation of Marvel heroes!
Rated T+
MARVEL TWO-IN-ONE ANNUAL #1 SHIPS 6/13/18
MARVEL COMICS
THE THING AND THE INFAMOUS IRON MAN - UNRAVELING THE SECRETS OF SECRET WARS!
There is but one place in the Multiverse where VICTOR VON DOOM holds no sway. A spot where even DOOM can be judged and tamed. A place that houses...THE COUNCIL OF REEDS. Can Doom escape with his life in order to save BEN & JOHNNY?
Rated T+
MARVEL COMICS
DAZZLER ROCKS ON!
The Brooklyn punk scene has never been cooler with DAZZLER's new band taking center stage. But while she's trying to find herself and reconnect to the one thing she's always loved, Dazzler stumbles upon a truly toxic part of the underground punk scene. When a new and violent gang threatens the young Inhuman fans that follow her from venue to venue, Dazzler may have to turn to her own past to provide some guidance--and butt kicking.
Written by the Eisner-nominated Magdalene Visaggio, and drawn by the incredible Laura Braga, DAZZLER: X SONG is an energetic epic that you won't want to miss.
Rated T+
ANT-MAN AND WASP LIVING LEGENDS #1
MARVEL COMICS
SCOTT LANG MUST PICK UP WHERE HANK PYM LEFT OFF!
When the leader of an interdimensional force is captured by a brutal dictator, they reach out to their old friends ANT-MAN & THE WASP!  But...uh...you see, SCOTT LANG is not exactly the Ant-Man who helped them all those years ago...he's AN Ant-Man, but not THAT Ant-Man...but when the fate of freedom hangs in the balance, Scott Lang has no choice but to try and fill the shoes of his mentor, Hank Pym, as Ant-Man and the Wasp fly once again!  
Written and drawn by comics legends RALPH MACCHIO and ANDREA DI VITO, you won't want to miss the epic intergalactic conflict...or the return of the LIVING ERASER!
Rated T+
MSH ADVENTURES WEBS ARROWS ANTS OH MY #1
MARVEL COMICS (MARVEL SUPER HERO ADVENTURES) SHIPS 6/27/18
(W) Jim McCann (A) Dario Brizuela (CA) Gurihiru
HEROES OF ALL SIZES - TO THE RESCUE!
The astonishing Ant-Man is in trouble! But when his daughter Cassie calls Spider-Man for help, Spidey finds out he's not the only hero in town! West Coast bigshot Hawkeye, A.K.A. Kate Bishop, is already on the case. They'll soon discover that two shots are better than one - especially when you're facing Taskmaster, the villain who can mirror any fighting move! It's a triple dose of heroes in Marvel's latest all-ages adventure!
ALL-AGES
WEEKND PRESENTS STARBOY #1 (MR)
MARVEL COMICS
Based on the chart-topping song from the double-platinum album STARBOY by THE WEEKND.
The city of Alphatron is in the grip of a crime wave, as the terrifying Jack "The Chef" Smiley has unified all criminal organizations with his ruthlessness and strategic genius. Not content with brutally murdering his victims, Smiley also feasts upon their flesh. The citizens live in fear and the police have been directly targeted.
The city is in dire need of a hero. It will not get one...
...but it will get what it deserves. STARBOY.
Parental Advisory
New From DC and Dark Horse June 2018
SWORD DAUGHTER #1 CVR A SHIPS 6/6/18
DARK HORSE COMICS
(W) Brian Wood (A) Mack Chater (CA) Lauren Affe
The Forty Swords came at night and murdered the entire village, save for two people: the infant Elsbeth and her grief-stricken father, Dag. Setting off on a revenge quest that will span the width of Viking Age Europe, they find the key to repairing their damaged relationship lies in the swords they carry. Created by Brian Wood (Northlanders, The Massive, DMZ) and Mack Chater (Briggs Land, Lazarus), Sword Daughter is a visually stunning, emotionally poignant story of parental guilt and acceptance of loss.
o A Viking revenge saga inspired by Lone Wolf and Cub.
o 28 page issues!
o Deluxe cover stock.
BTVS SEASON 12 THE RECONING #1 (OF 4) CVR A HANS SHIPS 6/20/18
DARK HORSE COMICS
(W) Joss Whedon, Christos N. Gage (A) Karl Story (CA) Stephanie Hans
It's one year later, and the lives of Buffy and the Scoobies haven't been too eventful for a while-at least as far as fighting demons and the forces of darkness are concerned. But that's all about to change when Dawn and Xander's housewarming party is interrupted by some familiar faces bringing news of familiar foes from the future. Can you say Harth . . . and Fray? 
o The return of Fray!
o The Reckoning will be the culmination of all the Buffy seasons!
MODERN FANTASY #1 SHPIS 6/27/18
DARK HORSE COMICS
(W) Rafer Roberts (A/CA) Kristen Gudsnuk
A young Ranger woman who came to the city with dreams of adventure, her drug dealing reptilian wizard roommate, and her boisterous Dwarf maiden BFF embark on a modern day quest to save the world while struggling to keep their crappy day jobs and pay off their student loans. The roommates become embroiled in danger when one of their significant others finds himself taken by criminals, and the trio must save him.
o From the creator of Henchgirl!
o Rafer Roberts (A&A: The Adventures of Archer and Armstrong) makes his Dark Horse debut!
HALO COLLATERAL DAMAGE #1 (OF 3) SHIPS 6/6/18
DARK HORSE COMICS
(W) Alex Irvine (A) Dave Crosland (CA) Zak Hartong
The Master Chief and Blue Team are deployed by the UNSC to Alpha Corvi II, a precarious human colony world, seeking to halt the Covenant's efforts to uncover something hidden below the planet's surface. The Spartan strike team quickly finds out that they will have to rely on each other and a small cadre of human rebels in order to survive and complete their mission.
BEDTIME GAMES SHIPS 6/28/18
DARK HORSE COMICS
(W) Nick Keller (A) Conor Nolan (CA) Kelly Fitzpatrick
As summer comes to an end, three friends start senior year with a bang by exploring the mysterious past of their school. But before the night is over, their adventure turns into trouble when the kids set loose an evil that seeks to prey on their worst nightmares.
Brand-new horror from Nick Keller (Death Head), Conor Nolan (Jim Henson's The Storyteller: Giants), and Kelly Fitzpatrick (Shade the Changing Girl).
HAWKMAN #1 SHIPS 6/13/18
DC COMICS
(W) Robert Venditti (A/CA) Bryan Hitch
Spinning out of the events of DARK NIGHTS: METAL, Carter Hall returns to the DC Universe! An explorer of the ancient and unknown, Hawkman finds himself embroiled in a long-standing mission to discover the true purpose of his many reincarnations. Carter races around the globe trying to piece together an ancient prophecy, but will he be able to face down his past lives lurking around every corner?
MAN OF STEEL #1 (OF 6) SHIPS 5/30/18
DC COMICS
(W) Brian Michael Bendis (A) Joe Prado, Ivan Reis (CA) Miguelanxo Prado, Ivan Reis
A new era begins for Superman as a threat from his earliest origins reemerges to destroy the Last Son of Krypton. As Superman struggles to come to grips with what has happened to his wife and son, he must also face a new threat that's determined to burn down Metropolis!
PLASTIC MAN #1 (OF 6) SHIPS 6/13/18
DC COMICS
(W) Gail Simone (A) Adriana Melo (CA) Aaron Lopresti
Meet Eel O'Brian: a petty thug, thief and con artist who runs a strip club. Hey, he's also dead, at least according to the gang that tossed him out like last week's garbage. Literally. Don't worry, though-he bounced back from all that, and now he's trying to make a new life for himself, but the effort is stretching him pretty thin. How can he get revenge on his old boss, keep a street kid out of trouble, make a dancer fall in love with him and stop a mysterious society from taking over the world? Eel has no idea!
UNEXPECTED #1 SHIPS 6/6/18
DC COMICS
(W) Steve Orlando (A) Ryan Sook, Cary Nord (CA) Ryan Sook
In the aftermath of DARK NIGHTS: METAL, the DC Universe has been forever changed as new heroes are called out of the shadows. Amid this all is Janet Fals...Firebrand! Once a paramedic dedicated to saving lives, she must now start a fight once every 24 hours to feed the Conflict Engine that's replaced her heart. But Janet's heart isn't just a curse-it's a beacon, drawing out both the mysterious Neon the Unknown and the seductive, malevolent Bad Samaritan. One of them wants to cut out her heart, the other wants to save it-but neither of them knows the true danger hidden within that will kick off a superhero manhunt ranging from Thanagar to the deepest heart of the Dark Multiverse!
TEEN TITANS SPECIAL #1 SHIPS 6/27/18
DC COMICS
(W) Adam Glass (A) Robson Rocha, Various Others (CA) Robson Rocha, Trevor Scott
Robin, Kid Flash and Red Arrow are sick of the super-hero status quo, and if the adults won't do anything about it, you'd better believe these teenagers will! Following the shocking events of NO JUSTICE, don't miss this special oversized issue that sets the stage for a fearless new direction that will change the Teen Titans forever!
TITANS SPECIAL#1 SHIPS 6/13/18
DC COMICS
(W) Dan Abnett (A) Paul Pelletier, Others (CA) Brandon Peterson
It's the dawn of a new age of TITANS! The events of METAL and NO JUSTICE have left the team in tatters, but a strange new threat has emerged to lead Nightwing to reassemble the Titans with a mix of old blood and new. A rash of metahuman power fluctuations are threatening people around the globe, and only the friends who grew up as superheroes can help those whose powers have grown out of control! It all starts here in this special issue kicking off a bold new direction!
BLACK LIGHTNING HONG KONG PHOOEY SPECIAL #1 SHIPS 5/30/18
DC COMICS
(W) Bryan Hill, Jeff Parker (A) Denys Cowan & Various (CA) Denys Cowan, Bill Sienkiewicz
Back from Viet Nam, kung fu master Hong Kong Phooey has set up his own detective agency in the inner city. Meanwhile, Jefferson Pierce (a.k.a. Black Lightning) has uncovered a plot by three assassins to collect the components of a sacred text revealing the darkest secrets of Martial Arts magic, and they'll kill anyone who owns them - including the dog who holds the last chapter of the book, Hong Kong Phooey. Plus, a tale of the Funky Phantom as he goes toe-to-toe with the Spectre in a tale by Jeff Parker and Scott Kolins.
FLASH SPEED BUGGY SPECIAL #1 SHIPS 5/30/18
DC COMICS
(W) Scott Lobdell (A/CA) Brett Booth, Norm Rapmund
When Wally West tries to take down Kilg%re, he's stunned to find he has an unknown ally who can move just as fast as he can. Dr. Pernell, a brilliant S.T.A.R. Labs scientist, has found a way to power his buggy using the Speed Force. When The Flash agrees to help test the limits of the vehicle in a race, something sends them spiraling out of the Speed Force and into the unknown. They land in a post-apocalyptic future, but Dr. Pernell is gone, leaving only the buggy, which is now sentient. Together with his new anthropomorphic ally, The Flash must find a way to repair the time stream and stop the triple threat of Savitar, Speed Demon Buggy and... Reverse Speed Buggy!
SUPER SONS DYNOMUTT SPECIAL #1 SHIPS 5/30/18
DC COMICS
(W) Peter J. Tomasi (A) Fernando Pasarin, Oclair Albert (CA) Fernando Pasarin, Albert Oclair
It's no fun for Jon Kent to be visiting Big City with his parents for the  funeral of an old friend. So his best pal Damian Wayne decides to follow along and give him the inside scoop on the city. But when they go to meet Robin's local friend, Dynomutt, they find him injured and in need of help. And Dynomutt's human superhero companion, Blue Falcon, has seemingly turned evil. What's the reason for this betrayal between once-loyal companions, and what role might the evil Red Vulture play in this scenario?
BATMAN PRELUDE TO THE WEDDING ROBIN VS RAS AL GHUL #1 SHIPS 5/7/18
DC COMICS
(W) Tim Seeley (A) Brad Walker, Andrew Hennessy (CA) Rafael Albuquerque
Ra's al Ghul returns to have a heart-to-heart with his grandson, Damian. Once upon a time, Ra's thought Bruce Wayne would be the heir apparent to his criminal empire, but now that Batman has turned his back on Talia for good, Ra's wants to know if Damian Wayne will honor his mother by stepping into the family business at last.
BATMAN PRELUDE TO THE WEDDING NIGHTWING VS HUSH #1 SHIPS 6/6/18
DC COMICS
(W) Tim Seeley (A) Travis Moore (CA) Rafael Albuquerque
Dick Grayson has a lot of responsibility. Being the original partner to Batman, he's the natural choice to be Bruce Wayne's best man. So if anyone has to get to the wedding, it's going to be him. Too bad Hush has other plans-and maybe Bruce Wayne does, too!
BATMAN PRELUDE TO THE WEDDING BATGIRL VS RIDDLER #1 SHIPS 6/13/18
DC COMICS
(W) Tim Seeley (A) Minkyu Jung (CA) Rafael Albuquerque
On the eve of Batman's wedding to Catwoman, two of Gotham City's finest minds clash. In her role as Oracle, Barbara Gordon wired all of her allies together. But when The Riddler takes on Batgirl, will he tear everything asunder?
BATMAN PRELUDE TO THE WEDDING RED HOOD VS ANARKY #1 SHIPS 6/20/18
DC COMICS
(W) Tim Seeley (A) Javi Fernandez (CA) Rafael Albuquerque
Red Hood has always been the one standing slightly apart from the rest of the Bat crew. Some see him as the Robin gone bad - which is exactly the kind of thing someone like Anarky can exploit. Now Red Hood is running security at Catwoman's bachelorette party - and if Anarky can crash it, that could be the final straw for Jason Todd!
BATMAN PRELUDE TO THE WEDDING HARLEY VS JOKER #1 SHIPS 6/27/18
DC COMICS
(W) Tim Seeley (A) Sami Basri (CA) Rafael Albuquerque
Harley Quinn knows a thing or two about dysfunctional relationships. When she hears that her old flame is trying to get in the way of a happy new life for one of her best friends, the Maid of Mischief tracks The Joker down to give him a piece of her mind - and maybe a few blows from her hammer, too.
NEW from Image, IDW, Dynamite, and BOOM! Starting in JUNE 2018
LOEG TEMPEST #1 CVR A ONEILL (MR) SHIP 6/27/18
IDW - TOP SHELF
(W) Alan Moore (A/CA) Kevin O'Neill
After an epic twenty-year journey through the entirety of human culture, Alan Moore and Kevin O'Neill conclude both their legendary League of Extraordinary Gentlemen and their equally legendary comic-book careers with the series' spectacular fourth and final volume, "The Tempest." This six-issue miniseries is a celebration of everything comics were, are and could be. Opening simultaneously in the panic-stricken headquarters of British Military Intelligence, the fabled Ayesha's lost African city of Kor and the domed citadel of 'We' on the devastated Earth of the year 2996, the dense and yet furiously-paced narrative hurtles like an express locomotive across the fictional globe. This is literally, and literarily, the story to end all stories. Here's how it begins. 
ORPHAN BLACK CRAZY SCIENCE #1 CVR A OSSIO SHIPS 6/20/18
IDW PUBLISHING
(W) Heli Kennedy (A/CA) Fico Ossio
Traveling the world to cure 274 sick Leda clones, brilliant scientist/couple Cosima and Delphine fall deeper in love... and deeper into a mysterious agenda which threatens to tear apart their noble mission... and their hearts!
ORPHAN BLACK #1 GREATEST HITS ED SHIPS 6/13/18
IDW PUBLISHING
(W) Graeme Manson, John Fawcett (A) Szymon Kudranski (CA) Nick Runge
In celebration of Orphan Black's return to comics, see where it all began, in this, the very first issue of IDW's Orphan Black comics!
STAR TREK NEW VISIONS AN UNEXPECTED YESTERDAY SHIPS 6/13/18
IDW PUBLISHING
(W/A/CA) John Byrne
Kirk and his crew venture into the past, only to discover it is nothing like what their history books teach-no trace of the devastation of World War III and the Eugenics Wars. What can have caused such a divergence? The answer is to be found in "An Unexpected Yesterday."
TRANSFORMERS BUMBLEBEE MOVIE PREQUEL #1 SHIPS 6/20/18
IDW PUBLISHING
(W) John Barber (A/CA) Andrew Griffith
Some call him Goldfender, but the name's Bee... Bumblebee. On loan to MI6 and teamed with a human partner, Bee's trapped in the middle of a Cold War plot to disrupt British Secret Intelligence. But when things go wrong, it's up to Bee to discover if there's a traitor in their midst. In the spy world, allegiances can change just as easily as a Transformer. 
*The prequel to the new Bumblebee film (coming this winter), geared toward a younger audience!
SWORD OF AGES SPECIAL EDITION #1 SHIPS 6/27/18
IDW PUBLISHING
(W/A/CA) Gabriel Rodriguez
In their review of Gabriel Rodriguez's Sword of Ages #1, Comicsverse said "Sword of Ages's narrative details and painstaking artwork are worth savoring." And now you can properly savor them in this deluxe, prestige representation of the acclaimed first issue. Author's notes, character sketches, pin-ups, and B&W art flesh out a package that also includes the original story with its lush hues added by Lovern Kindzierski. Come see how the Sword was originally drawn!
JOE HILL THE CAPE FALLEN #1 SHIPS 6/20/18
IDW PUBLISHING
(W) Jason Ciaramella (A/CA) Zach Howard
During the original tale told in Joe Hill's The Cape, our protagonist-turned-antisocial antagonist Eric disappeared for three days as he got comfortable with his new abilities? Where did he go? What did he do? And more importantly, who died during this period? The original creators return to tell a hyper-detailed and hyper-grim story of this oh-sol-lost period....
LOWLIFES #1 CVR A BUCCELLATO SHIPS 6/20/18
IDW PUBLISHING
(W) Brian Buccellato (A) Alexis Sentenac (CA) Brian Buccellato
In the seedy Los Angeles underworld, lives intersect like freeway overpasses. When a crime boss's poker game is robbed, three lowlifes-a bad cop, a drug addict, and a haunted thug-attempt to stay one step ahead of the others, as redemption or destruction is their only ticket out...
WEATHERMAN #1 CVR A FOX (MR) SHIPS 6/13/18
IMAGE COMICS
(W) Jody LeHeup (A/CA) Nathan Fox
Nathan Bright had it all: an awesome girlfriend, a kickass dog, and a job as the number one weatherman on terraformed Mars. But when he's accused of carrying out the worst terrorist attack in human history-an event that wiped out nearly the entire population of Earth-Nathan becomes the most wanted man alive and a target of a manhunt that spans the galaxy. But is Nathan truly responsible for such a horrific crime? And why can't he remember? 
Writer JODY LEHEUP (SHIRTLESS BEAR-FIGHTER!), artist NATHAN FOX (DMZ, HAUNT, Dark Reign: Zodiac), and colorist DAVE STEWART (Hellboy, RUMBLE) present a full-throttle, widescreen science fiction epic about the damage we do in the name of justice and what it truly means to be redeemed...You don't want to miss THE WEATHERMAN!
LAST SIEGE #1 CVR A GREENWOOD SHIPS 6/13/18
IMAGE COMICS
(W) Landry Q. Walker (A/CA) Justin Greenwood
A tale of blood, desperation, and loss. New York Times bestselling author LANDRY Q. WALKER joins artist JUSTIN GREENWOOD for an all-new ONGOING SERIES-THE LAST SIEGE! Spaghetti Western storytelling meets Game of Thrones atmosphere in this gritty medieval war story, as a mysterious stranger arrives at a castle overrun with brutal soldiers bent on usurping the throne of the rightful heir-an 11-year-old girl. An action-packed, genre-twisting epic, THE LAST SIEGE begins!
SHANGHAI RED #1 CVR A HIXSON & OTSMANE-ELHAOU SHIPS 6/20/18
IMAGE COMICS
(W) Christopher Sebela (A/CA) Josh Hixson, Hassan Otsmane-Elhaou
Red is one of hundreds shanghaied out of Portland in the late 1800s. Drugged, kidnapped, and sold to a ship's captain, she wakes up on a boat headed out to sea for years, unable to escape or even reveal who she truly is. Now she's coming back in a boat covered in blood to find her family and track down the men responsible for stealing her life out from under her. Eisner-nominated writer CHRISTOPHER SEBELA (High Crimes, Heartthrob, We(l)come Back), JOSHUA HIXSON (The Black Woods) and HASSAN OTSMANE-ELHAOU (Felix & Macabber) bring you a tale of revenge, family, and identity that stretches from the deck of a ship outside Shanghai all the way to the bleak streets and secret tunnels of Portland, Oregon.
PROXIMA CENTAURI #1 (OF 6) SHIPS 6/13/18
IMAGE COMICS
(W/A) Farel Dalrymple (CA) Farel Dalrymple, Wes Craig
"PROXIMA CENTAURI," Part One-4.243 light-years from Earth, the teenage wizard adventurer Sherwood Breadcoat is stuck in the confounding spectral zone on the manufactured dimensional sphere, Proxima Centauri, looking for escape and a way back to his brother while dealing with his confusing emotions, alien creatures, and all sorts of unknown, fantastic dangers.
In this issue The Scientist H. Duke sends Sherwood on a salvage mission and gives counsel to the troubled boy in his charge.
PROXIMA CENTAURI will be six issues of PSYCHEDELIC SCIENCE FANTASY ACTION COMIC BOOK DRAMA starring Sherwood Breadcoat, "The Scientist" Duke Herzog, Dr. EXT the Time Traveler, the ghost M. Parasol, Shakey the Space Wizard, and Dhog Dahog.
STELLAR #1 SHIPS 6/13/18
IMAGE COMICS
(W) Joseph Keatinge (A/CA) Bret Blevins
Stellar was taken as a child and transformed into the ultimate weapon, one that would end an intergalactic war. She succeeded...at everything except finding peace. Reduced to a bounty hunter, she scours the worlds she's broken, searching for redemption. But there are other weapons loose in the galaxy, who just can't leave the war behind them. JOSEPH KEATINGE (GLORY, SHUTTER) and legendary artist BRET BLEVINS (New Mutants, Sleepwalker) will transport you to another dimension, filled with crashed spaceships, fast-talking aliens, and ageless wonders.
BLOODSTRIKE #0 (MR) SHIPS 6/6/18
IMAGE COMICS
(W/A/CA) Michel Fiffe
"BRUTALISTS," Part One-In the spirit of Bloodstrike's groundbreaking carnage, the creator behind the indie hit Copra shines a light on Image's most extreme series. Witness the origin of Cabbot as he launches his undead strikeforce upon the world!
CHARLIES ANGELS #1 CVR A FINCH SHIPS 6/6/18
D. E.
(W) John Layman (A) Joe Eisma (CA) David Finch
The Angels are back, baby! -The original Angels, Jill, Kelly and Sabrina! Travel back to the swingin' 70s, and revisit the butt-kicking, crime-fighting, mold-breaking lady detectives who took 70s TV by storm, ready to do the same to comics 40 years later! Break out your bell-bottoms, feather your hair, and jump back to a era of peanut-farmer presidents, gargantuan gas-guzzlers and foxy female detectives... for a globe-trotting adventure that's simply too big and epic for the 70s-era boob tube. Written by elderly Eisner winner and solicitation-writing former-superstar John Layman, and with art by his scrappy but lovable youngster pal, Joe Eisma. This is one comic you DON'T DARE TO MISS!!!!
NANCY DREW #1 CVR A LOTAY SHIPS 6/13/18
D. E.
(W) Kelly Thompson (A) Jenn St. Onge (CA) Tula Lotay
Nancy Drew is seventeen and good at everything...ESPECIALLY solving crimes. But her totally-in-control-and-obviously-running-perfectly-smooth-(but-not-really) life hits a snag when a mysterious message drags her back to the hometown she left behind. There she'll have to find out which of her friends are still her friends, which are enemies, and who exactly is trying to kill her...and (hopefully) stop them before they succeed. KELLY THOMPSON (Hawkeye, Star Wars, Rogue & Gambit) and JENN ST-ONGE (Giant Days, The Misfits) team up to present an all-new modern spin on a classic mystery icon!
VAMPIRELLA ROSES FOR DEAD #1 (OF 5) CVR A LINSNER (MR) SHIPS 6/6/18
D. E.
(W) Kristina Deak-Linsner (A/CA) Joseph Michael Linsner
Fan Favorite artist Joe Michael Linsner is joined by writer Kristina Deak-Linsner to create a 4 issue Vampirella mini-series that gets Vampi back-to-basics as Dynamite prepares to celebrate her 50th Anniversary in 2019!
Vampirella hunts down a sexual predator in order to feed her insatiable thirst for blood. While tracking him down to a Philadelphia nightclub, Evily the Witch bars her path. They clash and the plan is thwarted. Do they both decide to team up against him, or remain at odds? Whatever the means, Vampi vows to get revenge!
VAMPIRELLA ROSES FOR DEAD #1 (OF 5) DELUXE COLLECTORS BOX 
ORDER BY 5/14/18 - SHIPS 7/25/18
D. E.
(W) Kristina Deak-Linsner (A/CA) Joseph Michael Linsner
Bask in the beauty of Vampirella's newest mini-series with Dynamite's "Roses for the Dead" Ultimate Collectors' Box. This limited edition boxed set features an incredible collection only available here. Each box will contain:
* Roses for the Dead #1 Box Set Exclusive Cover featuring all-new cover art by Kristina Deak-Linsner and signed by Linsner
* Roses for the Dead #1 Box Set Exclusive Cover featuring  limited cover art variation  by Joe Michael-Linsner and signed by Linsner
* A Complete Set of All Regular Edition Covers - by Billy Tucci and Joe Michael Linsner - of Roses for the Dead #1
* A Complete Set of all Retailer Exclusive Covers - by Billy Tucci and Joe Michael Linsner - of Roses for the Dead #1
* The Roses for the Dead #1 Blank Authentix Cover
* A limited edition print featuring the cover art of Roses for the Dead #1 Billy Tucci cover signed by Tucci
* A limited edition print featuring the cover art of Roses for the Dead #1 Joe Michael Linsner cover signed by Linsner
* A special Vampirella-themed box!
Strictly limited, this box set is only available from Dynamite and limited to initial orders only.
BY NIGHT #1 (OF 5) SHIPS 6/13/18
BOOM! STUDIOS
(W) John Allison (A/CA) Christine Larsen
Eisner-Award winning author John Allison (Giant Days) and artist Christine Larsen (Adventure Time) join forces for a story about coming home, discovering identity, and accidently smashing a hole to another dimension.
Aspiring documentarian (and actual Chemistry major) Jane has recently reunited with her former best friend Heather, amateur urban explorer. When a trip into an abandoned industrial building leads them to another world, their plan begins to unfold.create a documentary about the world and become filthy, filthy rich. The other side of the portal is filled with monsters, magic and a chance for a whole new life. All they have to do is step through...
GARFIELD HOMECOMING #1 SHIPS 6/6/18
BOOM! STUDIOS
(W) Scott Nickel (A) Sara Talmadge (CA) Andy Hirsch
The Fat Cat returns in this all-new four issue limited series, where Garfield explores what lifefs like outside of the friendly confines of Jon's house. Feeling mistreated and unappreciated by Jon, Garfield embarks on a journey for a new home. Along the way, Garfield meets up with a clown who works in an old-timey travelling circus. Convinced that this is the place for him, Garfield becomes part of the act. Wait. What is that cannon for? Writer Scott Nickel (Garfield: His 9 Lives) will pair with a different artist each issue, and Sara Talmadge (Steven Universe) takes us through this wild ride in the circus!
REGULAR SHOW 25 YEARS LATER #1 SHIPS 6/13/18
BOOM! STUDIOS
(W) Christopher Hastings (A) Anna Johnstone (CA) Jennifer Pham
After the epic battle between Pops and Anti-Pops, Mordecai, Rigby, and the rest of the park continued to live their lives. Now, 25 years later, Mordecai and Rigby have a lot to learn about how things never stay the same... 
* Your new source for Regular Show content!
MIGHTY MORPHIN POWER RANGERS ANNIVERSARY SPECIAL #1 SHIPS 6/27/18
BOOM! STUDIOS
(W) Joe Quinones & Various (A) Joe Quinones (CA) Steve Morris
To celebrate 25 years of Saban's Power Rangers, superstar creators Joe Quinones (America), Sina Grace (Ice Man), Marcus To (Red Robin), and more pay homage to the world-wide phenomenon with original standalone stories set throughout the Power Rangers universe.
Other New Books Starting in JUNE 2018
UN-BEDABLE VARK #1 SHIPS 6/27/18
AARDVARK VANAHEIM
(W) Dave Sim, Sandeep Atwal (A) Dave Sim, Gustave Dore (CA) Lee Thacker
Un-Bedable Vark & Batvark crossover; Batmite and Un-Bedable Vark, "partners"? Batmite's Mom & The End of "Un-Bedable"; Pimping Un-Bedable Vark; Cerebus, Dante & Virgil play Grand Theft Auto; Central Voodoo Grocery Spam; Cerebus buys Twitter; Batvark & Nietzsche Team-Up; Jingles, the Manticore and Minotaur critique Nietzsche; Batvark & The Puzzler's Macro-Enlarg-O-Ray; Cerebus vs. the Infanto-Throw-a-phobes; "Baby-Throw Shaming"; How Can You Throw a Baby?; Jingles on Puppy-Throwing; The Strange Death of Todd McFarlane's Grey Hulk; The Manticore recovers from the Homonym Ray; Deconstructing the Batvark Codpiece.
LOST CITY EXPLORERS #1 CVR A LA TORRE & MAIOLO SHIPS 6/20/18
AFTERSHOCK COMICS
(W) Zack Kaplan (A) Alvaro Sarreseca (CA) Rafael La Torre
Lost cities aren't just the stuff of myths. They exist hidden right under our noses. But when a mysterious expedition is disrupted by supernatural activity, and an antiquities professor goes missing, his teenage daughter and her friends must become underground urban explorers, follow his tracks on a coming-of-age journey through subterranean tunnels, and ultimately find the holy grail of lost city: Atlantis buried right under New York City! 
Explore science fiction and archeology in this new adventure series by Zack Kaplan (Eclipse, Port of Earth) and Alvaro Sarraseca (Magnus, Turok).
ABERRANT #1 CVR A HUSZKA (MR) SHIPS 6/27/18
ACTION LAB - DANGER ZONE
(W) Rylend Grant (A/CA) Zsomber Huszka
A U.S. Army Special Operations Commander, distraught after losing his entire unit to a superhuman attack, wages an absolutely brutal one-man war on the eccentric billionaire and former superhero that he believes is ultimately responsible.
B cover features Billy Dee Williams
METAPHASE #1 (OF 2) SHIPS 6/27/18
ALTERNA COMICS
(W) Chip Reece (A/CA) Kelly Williams
The ground-breaking graphic novel makes its single issue debut!  Ollie, a boy with Down syndrome, wants to be just like his superhero dad. Unfortunately for Ollie, his father doesn't want him to get in harm's way. Enter Meta-Makers, a company that gives people super powers - but at what cost?
IT CAME OUT ON A WEDNESDAY #1 SHIPS 6/27/18
ALTERNA COMICS
(W) Peter Simeti & Various (A) Michael Oppenheimer & Various (CA) Eli Powell
Focusing on horror, sci-fi, and fantasy - this bi-monthly ongoing double-sized anthology features the best and brightest upcoming creators. Each issue features stunning cover art, interviews, ongoing stories, a comic contest, and previews of upcoming Alterna titles. And the best part? It comes out on a Wednesday, of course.
NANCY IN HELL #1 (OF 4) (MR) SHIPS 6/27/18
AMIGO COMICS
(W) El Torres (A) Abel Cicero (CA) Ariel Olivetti
The wildest one in Hell and her trusty chainsaw are finally back, but it's not like you expected! After her death, Nancy awakens in Hell. A vast wasteland crossed by a single road, absorbing those who end there. Nancy just tries to survive the relentless demon chase. And, lost in the distance, poor Lucifer keeps calling her.
FATHOM VOL 7 #1 CVR A OUM SHIP 6/20/18
ASPEN MLT INC
(W) Ron Marz (A) Siya Oum
1998's Best-Selling Title of the Year Celebrates 20 Years in 2018! 
This all-new adventure for Aspen's preeminent hero sees her attempt to navigate an ever-changing world where The Blue are not only present above the surface-but exploited in new and dangerous ways. When a rival nation to The States decides to take control of the global landscape by tapping into the power of The Blue, Aspen Matthews discovers that a new adversary has risen to challenge the notion that she is the most powerful person on the planet-and humanity may suffer the consequences! 
Michael Turner and Aspen Comics' flagship title commemorates its landmark twenty years since its debut in grand fashion! The superstar creative team of Ron Marz (Green Lantern, Witchblade) and Siya Oum (Lola XOXO) are on board to deliver Fathom, and the iconic heroine, Aspen Matthews, to a new generation of readers as well as loyal fans alike!
FATHOM PRIMER 2018 SHIPS 6/20/18
ASPEN MLT INC
(W/A) Michael Turner, Various
Celebrate Aspen's 15 Year Anniversary with 25-cent Primer issues!  
New readers and fans alike can find everything they need to know about Aspen's flagship title in this new Michael Turner's Fathom 15 Year Anniversary Primer issue! Journey under the surface with Aspen Matthews and the awe-inspiring world of The Blue once again, and check out never-before-seen commentary, art and creator secrets in anticipation of Volume 7 and more...All for only a quarter! These Aspen Anniversary edition primer issues are the perfect compliment to discover more about Aspen's upcoming slate of new and returning titles!
MICHAEL TURNER LEGACY SHIPS 6/27/18
ASPEN MLT INC
(W/A) Michael Turner, Various
This special 10 Year Anniversary edition tribute issue celebrates the life and legacy of Aspen's founder, the late, great Michael Turner!
From his groundbreaking creations of Fathom and Soulfire, to his award-winning run on DC Comics and Marvel's most iconic covers, superstar Michael Turner's career and life spanned an amazing journey that fans and readers alike can now commemorate with this amazing special! This Legacy issue captures everything you'll ever need to know about Turner in addition to rare photographs and artwork from his career, special memories from colleagues and much, much more!
All net proceeds from this tribute issue will be donated to the American Cancer Society.
AWAKEN SKIES #0 CVR A LORENZANA 6/13/18
ASPEN MLT INC
(W) Frank Mastromauro (A/CA) Marco Lorenzana
A new world of flight prepares to take the Aspen Universe by storm!
In the Gothic Quarter of Barcelona, Spain, a covert scientist discovers that possessing valuable data that could change the world comes with a dangerous price. However, it may be far too late for him to escape before the powers that be come to collect! Meanwhile, on the other side of the world, a loving suburban family makes a similar discovery, that the world is indeed much smaller than it seems, and no one is safe! 
Don't miss the thrilling opening chapter to Aspen's newest action-adventure series from creator Frank Mastromauro (Shrugged, Overtaken), artist Marco Lorenzana and colorist Justice!
OH S#!T ITS KIM & KIM #1 (MR) SHIPS 6/27/18
BLACK MASK COMICS
(W) Magdalene Visaggio (A) Eva Cabrera (CA) Eva Cabrera, Claudia Aguirre
The Fighting Kims are back! Kim & Kim trade their denim vests and spiked chokers for tuxes and gowns as they infiltrate the glitzy space colony of Santa Palma to try and con a master thief. But, as usual, everything goes to hell... and it's definitely Kim Q's fault. Come on, Kim. Get your life together. A brand new ongoing series from writer Magdalene Visaggio, artist Eva Cabrera, colorist Claudia Aguirre, letterer Zakk Saam, and editor Katy Rex, the original creative team behind the GLAAD & Eisner nominated Kim & Kim!
GEKIDO #1 MASKED 48 PG ED SHIPS 6/27/18
BEYOND COMICS INC
As seen on AMC TV's Comic Book Men (Kevin Smith) & E! Entertainment Television's Ice Loves Coco (Ice-T & Coco), and from Image Comics' Spawn poster artist; Graig Weich of  BeyondComics.TV, comes: Gekido ("Wrath" in Japanese), an ageless warrior-assassin fighting throughout the centuries to discover who wiped his memory and why. Clad in protective body armor that harnesses his unlimited power, someone is trying to take control of him. His mission to uncover the lies that have manipulated and destroyed his life is only the beginning. He must fight his way through an ancient merciless Ninja Clan lead by his oldest nemesis, Lord Shinryu (Cary Tagawa; Shang Tsung of Mortal Kombat and star of The Man In The High Castle on Amazon Prime TV) and the Goddess of Seduction, Cleo (Coco Austin from E! TV's Ice Loves Coco). To save mankind from an evil force to be unleashed, Lord Shinryu is bent on world domination. Also starring Adrianne Curry (Stan Lee's Super Fans) and Gary "Bababooey" Dell'Abate from The Howard Stern Show.
OFFICIAL KISS POSTER BOOK #1 SHIPS 6/6/18
FANTASM MEDIA GROUP
(W) Brian Steward, Chris Alexander
FANTASM Media Group's The Official KISS Poster Book is a full-color magazine featuring new, exclusive and unseen photos from KISS's past and present, brand new interviews and essays, as well as eight giant foldout posters, perfect for framing and hanging on whatever wall you want.
This is a limited edition collector's book published in cooperation with KISS, an aesthetic throwback to the glory days of the poster magazines that flew off shelves in the 1970s and '80s but with a contemporary perspective and-like all FANTASM Media Group products-printed on the highest-quality paper and produced by the fans for the fans.
You Wanted the Best...You Got the Best!
BARRY STEAKFRIES #1 CVR A BLANKENSHIP SHIPS 6/27/18
KEENSPOT ENTERTAINMENT
(W) Chris Crosby, Mike Rosenzweig (A) Remy Eisu Mokhtar (CA) Bill Blankenship
Who is Barry Steakfries? Struggling gramophone salesman by day, jetpack-stealing sleeveless adventurer also by day! He's got a shirt-ripping disease and there is no cure! He's part Bruce Campbell, part Marty McFly, all action! With the help of his friends (a robot dog that's way smarter than him and a robot bird that shoots money), Barry tortures the evil scientists of Legitimate Research by stealing jetpacks faster than they can manufacture them. An all-new comic book based on the massively popular retro video game Jetpack Joyride!
CELLIES #1 SHIPS 6/6/18
LION FORGE
(W) Joe Flood, Dave Scheidt
  The newest cell phone, the Sanstar 6, is being released at midnight. The line for the latest and greatest phone is stacked out the door. When the midnight release doesn't go as planned, the staff at Jog Mobile must figure out how to keep the impatient crowd from becoming an angry mob.  
MAE VOL 2 #1 SHIPS 6/20/18
LION FORGE
(W/A/CA) Gene Ha
Mae, Abbie and Kvido have nearly escaped death countless times, but that won't stop them from taking on the Zemetrasi to rescue their father. When they stumble across Petra Stoneheart, an old friend of Abbie's, Mae starts to learn more about the unfamiliar world she's followed Abbie through and about the sister she's been separated from for years.
SHADOW ROADS #1 CVR A SHIPS 6/27/18
ONI PRESS INC.
(W) Cullen Bunn, Brian Hurtt (A) A.C. Zamudio, Carlos Zamudio (CA) Carlos Zamudio, A.C. Zamudio
The world is thinnest at The Crossroads, a mythical plane that serves as a doorway throughout the universe. It is here that a band of adventurers throughout the Wild West gather, brought together by Gord Cantrell and Abigail Redmayne with a singular purpose: to fight back against the creatures that would endanger the sanctity of all creation.
SHADOW ROADS is the set in the world that remains after the conclusion of Cullen Bunn, Brian Hurtt and Bill Crabtree's critically-acclaimed series, The Sixth Gun.
KAIJUMAX SEASON 4 #1 (OF 6) (MR) SHIPS 6/13/18
ONI PRESS INC.
(W/A/CA) Zander Cannon
SCALY IS THE NEW BLACK! After murdering her abusive inmate boyfriend and unable to scale back down to human size, former prison physician Dr. Zhang joins a collection of uranium addicts, violent offenders, con artists, and metaphors for human encroachment in the heretofore unseen female wing of Kaijumax. As new and returning kaiju assimilate into their respective species, Zhang struggles to find her place and secure her own safety. Also: Giant Mechs! Tiny Fairies! And... Feng Shui?
RICK & MORTY PRESENTS KROMBOPULOUS MICHAEL #1 CVR A SHIPS 6/20/18
ONI PRESS INC.
(W) Daniel Mallory Ortberg (A/CA) CJ Cannon, Nick Filardi
Learn the secret stories and hidden pasts of your favorite Rick and Morty characters in Oni Press's new quarterly series of one-shots: RICK AND MORTY PRESENTS!
In this issue, writer Mallory Ortberg (co-founder of THE TOAST) joins series artists CJ Cannon and Nick Filardi to tell the tale of KROMBOPULOS MICHAEL, the professional assassin who just loves killin'. Discover the roots of Rick's relationship with the galaxy-trotting killer with no code of ethics: children, animals, old people... it doesn't matter!
GIANT SIZED ADVENTURES OF MARKIPLIER PREMIUM ED
SHIPS 6/27/18
RED GIANT ENTERTAINMENT
(W) Mark "Markiplier" Fischbach, Benny Powell (A) Tina Francisco & Various (CA) Brandon Peterson
When YouTube superstar Markiplier takes a break from making videos, he relaxes by reading some of his favorite comic books. But after he receives a mysterious wristwatch in the mail and activates it without reading the enclosed instructions, it's anything but relaxing as he falls into a dimensional portal and into the comics he was reading! Now he's fighting for his life against vampires, dragons, werewolves, zombies, aliens, and monsters that defy description. Thankfully, there are also incredible heroes he can team up with to get through each adventure... but can any of them help him get back home? Premium Edition features a dustjacket, foil logo and 12 extra pages exclusive to the comic book market. The Signed Edition features a dustjacket, foil logo,12 extra pages exclusive to the comic book market, is signed by Markiplier, and is limited to 300 copies.
ZINNOBER #1 CVR A SHIPS 6/27/18
SCOUT COMICS
(W) Ralf Singh, Thorsten Brochhaus (A) Ralf Singh
Twenty years ago dragons returned to Earth and laid waste to human civilization. In the event the surviving humans named "Zinnober," Claire, then a young girl, lost her parents to the devastating force of these primeval creatures. Today, she's hell-bent on avenging the death of her family. But will the skills she was taught by her foster-father, the troubled ex-Marine James, be enough to fight an unstoppable enemy older than the Earth itself? Will the knowledge of her newest ally, the young scientist Andrew, bring her even closer to her goal? And what role will the mysterious Followers, a cult of mad dragon worshippers, play in all of this?
SHADOW CHILDREN #1 (MR) SHIPS 6/27/18
RED GIANT ENTERTAINMENT
(W) Kevin Juaire (A) Vincenzo Cucca
Just one step to the left of reality is a place best described as Elsewhere. It is equally a land of whimsy and merriment and a dark foreboding place of terror. At the center of it all we find Kerju, a mystical pied piper, leading children away from home into his realm.
JOHN CARPENTER TALES OF SCI FI STANDOFF #1 (OF 5) (MR) SHIPS 6/27/18
STORM KING PRODUCTIONS, INC
(W) David Schow (A) Andres Esparza (CA) Tim Bradstreet
Tattersall Prison. Max lock. The baddest of the bad. Until something from the night sky crashes into the complex, trapping cons and guards on the inside, cops on the outside, and the escapees in-between. All of the threatened by a hideous invader who needs to take over nice, warm human bodies. It's a hostage situation. It's a battle between species. It's the Earth's most serious standoff.
TANK GIRL ALL STARS #1 (OF 4) CVR A PARSON SHIPS 6/20/18
TITAN COMICS
(W) Alan Martin (A) Brett Parson & Various (CA) Brett Parson
An anthology of stories from creators old and new, celebrating the 30th anniversary of Tank Girl! At last it can be told! In this 30th anniversary anthology, we finally reveal the biggest secret in comic history - how Tank Girl got her tank - the origin story to end all origin stories! This, and a whole bunch of other tales, will be written by series co-creator Alan Martin, with artwork by a host of Tank Girl stalwarts, newbies, and superstar guests, including current artist Brett Parson, and friends from throughout Tank Girl's checkered 30-year lifetime!
KONUNGAR WAR OF CROWNS #1 CVR A RONALD SHIPS 6/13/18
TITAN COMICS
(W) Sylvain Runberg (A) Juzhen (CA) Alex Ronald
Gorgeously rendered epic fantasy with duelling brothers at its heart, Konungar is the ultimate fusion of Game of Thrones and Warcraft!
BROTHER NASH #1 CVR A GREENE (MR) SHIPS 6/6/18
TITAN COMICS
(W/A) Bridgit Connell (CA) Sanford Greene
American Gods meets Preacher and Hellboy on the midnight road to Sacramento!
Nash is a trucker, he also sees ghosts, and when the moon is on the rise and violence threatens his friends... He roams as a wolf... As the Highway Beast!
When Nash takes on a mysterious hitchhiker heading for Tucson, he and his friends are dragged headfirst into his biggest and most dangerous adventure yet!
MIKE HAMMER #1 CVR A MCGINNIS SHIPS 6/27/18
TITAN COMICS
(W) Mickey Spillane, Max Allan Collins (A) Marcelo Salaza (CA) Robert McGinnis
All New Mike Hammer story, from a plot by original creator, Mickey Spillane!
From the writer of Quarry and Road to Perdition, Max Allan Collins!
RIVERS OF LONDON WATER WEED #1
TITAN COMICS
(W) Ben Aaronovitch, Andrew Cartmel (A) Christopher Jones
The digital and bookstore smash-hit series returns with an all-new miniseries! When two of the less well-behaved river goddesses, Chelsea and Olympia, decide to earn a few quid on the side, Peter Grant and Bev find themselves drawn into a sordid cannabis-smuggling operation, controlled by
London's new queenpin of crime - the brutal and beautiful Hoodette!
DOCTOR WHO 7TH #1 (OF 4) CVR A ZHANG SHIPS 6/6/18
TITAN COMICS
(W) Ben Aaronovitch, Andrew Cartmel (A) Christopher Jones (CA) Alice X Zhang
From the writers of the fan favourite episode Remembrance of the Daleks, Andrew Cartmel and Ben Aaronovitch (Rivers of London) which celebrates it's 30th anniversary in 2018!
Brand new comic adventure featuring the Seventh Doctor as played by Sylvester McCoy and Ace as played by Sophie Aldred!
Includes short back-up strip, written by Richard Dinnick (Twelfth Doctor) with art by Jessica Martin (Doctor Who Actress)
And That's Not All….!!
This list doesn't even touch all of the Manga, new Hardcover Editions, Trade Paperbacks (collections of comic books in one bound edition), or Graphic Novels (complete original story not featured in a monthly) – not to mention all of the toys, statues, and apparel that come out every month! That would be at least 7 more of these articles, every month! I'm just going to stick to comics for now. If you are interested in finding out about all of the rest (and get yours before they sell out!), just come on down to the shop for an in-depth look in the Previews book, or take one home for about $4 - which also gets you a free copy of Image+ (normally $2). While you are in for a visit, don't forget to set up your subscription or pre-order. You can even pre-fill a form at home and drop it by.  Stop by at least once a month to check out the new stuff and pick up your subscription…